A recent WTF Moment which probably could've/should've alarmed readers -- and shocked the college basketball world (maybe) -- occurred exactly one week ago when espn.com's Bill Simmons typed the following:
"Weirdest subplot of the 2007 tournament: An inordinate number of African-born players with African names that torture every play-by-play announcer. With the exception of BYU and Belmont, it seems like every team's had one so far. I mention this because UNLV has a starting forward named Xrwtysgsgj Mndgagagagbke."
Any time we read the words "weirdest" and "inordinate number" as they apply to Africa, we can't help but wonder if maybe Simmons is one of those inordinate number of Jews who had his Yiddish surname (Goldberg or Rosenberg or Goldstein or Rosenstein) de-Hebrewized to "Simmons" (a la Russian-Jew actor Kirk Douglas, born as "Issur Danielovitch") -- because how else to rationalize UNLV forward Gaston Essengue (from Cameroon) singled out as "Xrwtysgsgj Mndgagagagbke"?
At least, we're guessing that it was Essengue who was singled out as Simmons tried to get cute and smart-alecky by using Xrwtysgsgj Mndgagagagbke as code for something that he felt was more intelligent than merely referring to Essengue as "Spearchucker Jones," the name of the black dude played by Fred "The Hammer" Williamson in the original "M*A*S*H*"?
On the other hand, Simmy might've been re-visiting the struggle he had in last year's tourney when he couldn't figure out the proper pronunciation for UCLA's Luc Richard Mbah a Moute (who, like Essengue, is a Cameroonian).
Since UCLA advanced all the way to the title game, the "weirdness" was prolonged for Simmons.
Sad, but true: Some people will never embrace our African-born b/ballers until those b/ballers embrace quality American surnames such as "Washington" or "Jefferson" ... last names which white people no longer own.
Look ... everybody knows that, aside from Ohhh-LYE-juh-won, Ohhh-luhh-wuhh-KONN-dee and Mohhhh-TOMMM-bohhh, it's football, not basketball, which has provided the most-prolific African names --> i.e. "Tshmanga Biakabutuku" ... "Adewale Ogunleye" ... "Nnamdi Ashmouga" ... "Kabeer Gbaja-Biamila" ... and, a personal fave, "Ifeanyi Uwaezuoke."
Football's proud African-American legacy began with migrants from Nigeria -- first w/ Clemson PKs Obed Ariri and Donald Igwebuikwe before the emergence of pioneer RB Christian Okoye.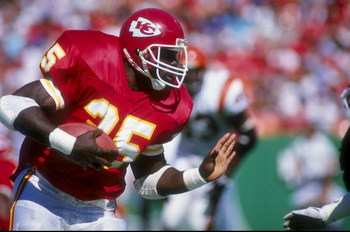 To his credit, The Nigerian Nightmare refused to cater to dumbshits like Simmons by changing his name from the unpronounceable "Okoye" to "Christian Jesus Elvis Franklin Delano Sinatra."
The melody of Okoye notwithstanding, it remains more fun to sing a few choruses of
"igg ... wayy ... bee ... kay"
or
"bee-yaw-kuh-boo-too-kuh
.
As Okoye became the first Nigerian to win an NFL rushing title (two RBs from Zaire -- Biakabutuka, with his Americanized first name "Tim," and Amos Zereoue never quite achieved that level of pro fame), ultimate b/ball glory eluded Olajuwon in college (thanks, Lorenzo Charles) until he won back-to-back NBA titles.
Leave it to the nation of Senegal to give us African glory almost a full decade ago when Souleymane Wane helped UConn to the national championship one season after Makhtar N'Diaye (after transferring from Michigan) helped UNC to the Final Four.
Is Soulemane Wane a weird name to pronounce? Do Boubacar Aw or Longar Longar or Duany Duany or Luol Deng or Yinka Dare or Ruben Boumtje-Boumtje deserve to be shunned/mocked because Jews named either "fine-STINE" or "fine-STEEN" or Levine-As-"Levin" or Levine-As-Luh-VEEN" cannot pronounce their names?
That's mean ... and un-neighborly ... then again, Olbermann used to pull this shit on the EspyChannel routinely and repeatedly.
This all might've been prevented if the Triangular Trade which we read about in junior-high history class had NOT been: The NCAA/NBA/NFL (molasses) --> West Indies |||| West Indies (rum) --> Africa |||| Africa (great-great-great grandfathers of Longar Longar and Duany Duany) --> the NCAA/NBA/NFL and, instead, been a paradigm of: maple syrup from Vermont to Mexico |||| tequila from Mexico to Russia |||| Russian mail-order brides and/or Nikolai Khabibulin's goaltending skills to the Cradle of Freedom.
Alas ... it wasn't to be ...
Now that it's too late, the solution seems to be that Cameroon needs to get busy populating some national championship rosters -- lest they be ridiculed as wacky Africans w/ wacky African names.
A Nigerian such as Oregon's Churchill Odia isn't on Simmons' shit list because his first name is the same as a British prime minister whom Simmons has heard of (although nobody's sure if Churchill Odia's Duck teammate, Chamberlain Oguchi, got his Nigerian name ... from British prime minister Neville Chamberlain and a Japanese guy named "Oguchi"??? ... it's complicated ... definitely moreso than what's going on at Maryland with Nigerian confusion re: current Terp Ekene Ibekwe and ex-Terp Obinna Ekezie ... ).
Ibekwe? Igwebuike? Where does it all end? We could ask Makhtar N'Diaye of the '97-'98 UNC Tar Heels -- or we could ask Senegalese soccer star Mahktar N'Diaye of the Scottish Premier League's Rangers.
Apparently, "Makhtar N'Diaye" is a common name in Senegal ... although it might sound better if if "Makhtar" was switched to "Connor" or "Jared" or "Tyson" or "Bryce."
Not that it'll matter tonight when Gaston Essengue (L) and Churchill Odia (R) engage in a spearfight for African supremacy in an NCAA regional semifinal between the Runnin' Rebs and the Ducks.
It's a matchup which might upset a non-b/baller such as Simmy and his white-hooded feelings toward Xrwtysgsgj Mndgagagagbke -- but, it'll make Shaka Zulu proud.
Up next: Simmons explores why Shaquille O'Neal and Ed O'Bannon never embraced their Irish ancestry ...